Change your horse,
change yourself,
change your life!
Whether you have a great horse and just want to advance your skills, or you have a horse that spooks at everything it sees and refuses to get in a trailer, or somewhere in between, I would love to be able to help you. I can teach you and your horse how to be on the same team and get the results you want. By using natural horsemanship methods and techniques, I am able to help you have a better relationship with your horse, all while learning how to be safe and confident, and how to be a better horseman.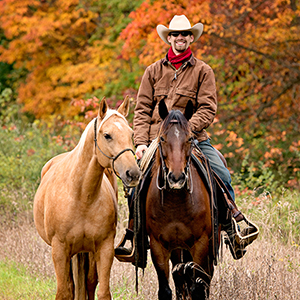 My name is Matt Hendricks and I am a certified 4 star Jordan Brasser Horsemanship instructor and a 3 star behaviorist. I founded Hendricks Horsemanship LLC to help people and their horses to have a better relationship with each other while at the same time to get better results than they've ever achieved before.
Natural Horsemanship That Works
Using time tested and well proven methods, I am able to get you and your horse on the same page.  I would love to help you with everything from saddle fitting, to giving you customized one-on-one lessons to help you improve your own horsemanship, or even doing a colt start or behavioral work for you so you can experience the same results that I get with my own horses.
Ready to communicate better with your horse?
Let me help you inspire your horse as much as your horse inspires you.  Your horse will thank you.